About Us
Our domestic manufacturing is core to our passion to be artists and craftsmen. It is key in providing you, our clients, world class effects unrivaled and seldom seen. Call us, hire us, and see exactly what you have been missing. We are eager to share, show off, and serve!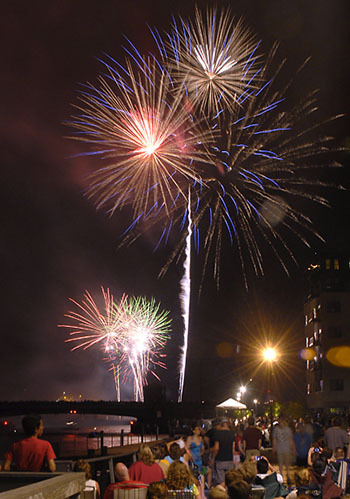 Consumer and Display Manufacturing
Our domestic manufacturing gives Spectrum Pyrotechnics unrivaled artistic freedom. No other company has our range of product or inventory of glitter and flitter effects in low, mid, and high level ranges. We are primary manufacturers and we start with raw materials culminating in completed effects ready for display. We stock a full inventory year round and are always ready for your call. If you are interested in a full service display from us, you will see effects that exist nowhere else. If you seek wholesale purchase for your own display, please call for current inventory and pricing.
Custom Charcoal Production
We have recently added exclusive machinery that allows us to custom manufacture our own charcoal. We custom kiln three new charcoals that are the foundation of our premier canopy shell effects. Our charcoal is made to very exacting standards paired with modern gasification technology which is very clean burning and better for the environment. We are very excited about the in-house charcoal production and the increase in quality of the finished effects. This charcoal is also used in our Black Powder production as well.
Shell Hemisphere Production Molds:
We have recently added machinery that allows us to make custom molds perfectly found for forming custom sized paper hemispheres. We have molds for 6" thru 24" diameter aerial shells. Our custom hemispheres have proprietary "break bands" and are made to our internal specifications. We have seen a dramatic increase in aerial shell burst radius and symmetry. Our research and development has produced some of the best 8" thru 16" aerial shells recently in part to the new hemispheres.
Spectrum Pyrotechnics Manufactured Specialties
Full Spectrum of spectrally pure colors
Large horizon filling gold canopy effects of long burn duration
Specialized "Old World" canister style comet effect shells
Low, Mid, and High level material that is perfectly matched
Brilliant effects with very high light output for special scenes
Specialized effects just for waterborne programs